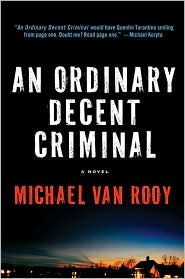 I really don't know where to start, this is a fabulous novel. Canadian Van Rooy is just breaking into the US market and I predict a great future for him. He's as good as the best mystery writers I already love. I did a little research, and apparently this is the first in a series, already three deep, already published in Canada and the UK. I'm hoping St. Martin's Press, his US publisher will release the others, in short order.
Synopsis
Not since Jack Reacher has there been such a quickthinking, hard-edged antihero who readers will root for against all odds
All recovering drug addict and reformed thief Montgomery Haaviko wants to do is settle down with his wife and baby in their new home and work on building a straight life, one free of the day-to-day hustle and danger of being a career criminal. But for a man who's never held down a legitimate job it isn't going to be easy. When Monty foils a robbery in his new home, killing the intruders, he soon finds he has both a small-time crime boss and a star police sergeant looking for ways to ruin him, run him out of town, or kill him. It's going to take all of the tricks this streetwise ex-con has up his sleeves to prove his innocence, protect his family, and avoid the temptation of the life he left behind.
Montgomery Haaviko's Tricks of the Trade:
• Be nice. Nice is good. Nice sets a standard. Then, when you get mean, the shock is strongest.
• Armored cars are owned by people with guns.
• When burglarizing a house move slowly. Then slow down. Now cut it by half. And you've got it.
• A couple of drops of crazy glue on the tips of your fingers will eliminate fingerprints.
Read more books,