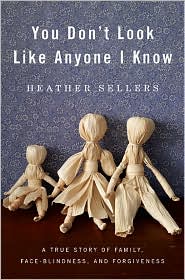 I'm a little late posting this today. I worked at Barnes and Noble, so this could fall under, "So Many Books, So Little Time". Today I'm giving away an ARC of
You Don't Look Like Anyone I Know by Heather Sellers
. This is a memoir that has already been published. I like reading good memoirs, and this one is good, but I had a hard time getting into it, initially. I'm so glad that I persevered, I really liked it.
The New York Times - Mary Roach


It sometimes appears that contemporary memoir has become a game of misery poker, authors competing for the most appalling hand of woes. Face blindness would seem to be a trump card, but Sellers doesn't play it that way. On the contrary…She views prosopagnosia as a gift…[and] believes her condition helped her as a writer by forcing her to focus on "the essence of the person," not the surface. The writing bears this out. Sellers captures the people in her life in spare, perfect strokes…Her calm, glass-half-full-to- overflowing worldview could, in another writer's hands, veer toward treacle, but she pulls it off beautifully.
If you're interested, let me know. Here are the simple rules:
You can win more than once.
You must comment on this post. I'd love if you became a follower, but it's not required.
You must have a blog to be eligible to win.
If you have a blog, but are a no-comment blogger, you must leave your email in you comment.
Jan of
http://theellisfamilycincinnati.blogspot.com/
, and several other blog, I think she has more than I do, wins Buzz from last week, and
SewCalGal
wins A Dog's Purpose and Moondogs.
Read more books,