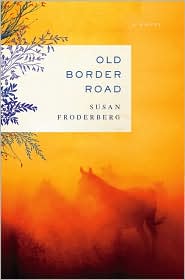 Okay, I admit it, I picked up this book, ititally because of the beautiful cover. I always love to give debut novels a chance and I love to read about the "West", be it the Old West or modern times; I struck gold with this pick. Froderberg's use of language is mesmerizing. There's a bit of Spanish in the novel, but if you don't know a smattering, you might want to have a dictionary handy.
From Publishers Weekly:
Froderberg's shimmering debut set against the dusty, barren backdrop of the American southwest explores the joys and consequences of young love. Katherine, a new arrival to southern Arizona, is only 17 when she marries Son, the son of a local rancher. The couple settles in his parents' adobe home, and Katherine's new in-laws counsel her on life, "...like how to hide a stitch when taking a proper hem up, and the way you make a chili roast and a casserole and a lemon pie, stiff whites and all." An extended dry spell sets in motion a series of hardscrabble events that bring havoc to the newlyweds; Son's increased drinking, casual infidelities, and frequent departures leave Katherine doubting her decision. She soothes her regret with a budding affinity for horses, in time abandoning the marriage and terminating a pregnancy. Her dire situation comes full circle after Son is thrown by a horse and a drought-ending storm keeps them from getting him medical help, but affords Katherine a chance to revive her hobbled marriage. Froderberg's distinctive narrative about life in the desolate borderlands is simple yet gilded with grandly descriptive flourishes and lush colloquial language.
Read more books,