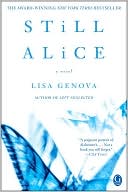 Brilliant is the first word that came to mind, when I finished Still Alice. Brilliant! This intelligent debut novel is hard to put down, making it a quick read, but I wanted to slow down, so I could savor each work and phrase. The whole time I was reading Still Alice I felt as if I was reading a memoir, a memoir of early onset Alzheimer's Disease, which would be impossible, if you think about it.
Barnes & Noble Discover Great New Writers:
This may be one of the most frightening novels you'll ever read. It's certainly one of the most unforgettable. Genova's debut revolves around Alice Howland - Harvard professor, gifted researcher and lecturer, wife, and mother of three grown children. One day, Alice sets out for a run and soon realizes she has no idea how to find her way home. It's a route she has taken for years, but nothing looks familiar. She is utterly lost. Is her forgetfulness the result of menopausal symptoms? A ministroke? A neurological cancer? After a few doctors' appointments and medical tests, Alice has her diagnosis, and it's a shocker -- she has early-onset Alzheimer's disease.
What follows is the story of Alice's slow but inevitable loss of memory and connection with reality, told from her perspective. She gradually loses the ability to follow a conversational thread, the story line of a book, or to recall information she heard just moments before. To Genova's great credit, readers learn of the progression of Alice's disease through the reactions of others, as Alice does, so they feel what she feels -- a slowly building terror.
In Still Alice, Genova, who has a Ph.D. in neuroscience from Harvard, uniquely reveals the experience of living with Alzheimer's. Hers is an unusual book -- both a moving novel and an important read.
Abandoned by her spouse, at the end of the novel, Alice lives with her two daughters, a son-in-law and two grandbabys, she can't remember much, even her daughters' names. She calls them "the mommy" and "the actress". Heartbreaking and brilliant. I wanted to slap her husband and hug her daughters. A truly important read.
Read more books,