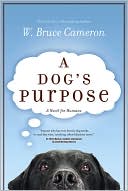 Upfront, I have to admit, I'm a dog lover. This is another, like Racing In The Rain, with the dog telling the tale, This synopsis could be summed up this way, "All dogs go to heaven… unless they have unfinished business here on earth".
Here's what Publisher's Weekly said about it:
A tail-wagging three hanky boo-hooer, this delightful fiction debut by newspaper columnist Cameron (8 Simple Rules for Marrying My Daughter) proposes that a dog's purpose might entail being reborn several times. Told in a touching, doggy first-person, this unabashedly sentimental tale introduces Toby, who's rescued by a woman without a license for her rescue operation, so, sadly, Toby ends up euthanized. He's reborn in a puppy mill and after almost dying while left in a hot car, he's saved again by a woman, and he becomes Bailey, a beloved golden retriever, who finds happiness and many adventures. His next intense incarnation is as Ellie, a female German shepherd, a heroic search and rescue dog. But the true purpose of this dog's life doesn't become totally clear until his reincarnation as Buddy, a black Lab. A book for all age groups who admire canine courage, Cameron also successfully captures the essence of a dog's amazing capacity to love and protect. And happily, unlike Marley, this dog stays around for the long haul. (July)
I agree, for the most part. The "three hanky" part didn't work for me, I'm a realist. While I was reading A Dog's Purpose, I said to Bob, this dog keeps being reborn, he must be Buddhist. That made me happy; and I'm very happy to recommend this novel to any good hearted person.
Read more books,