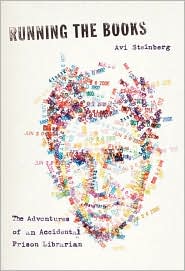 This is a facinating memoir. Avi is pretty much a ne'er do well; a Harvard grad with no ambition. He's just getting by when a friend challenges him, with, Is this all you really want to do? Browsing Craigslist, he finds an ad for a prison librarian, steady work with benefits. The rest is the making of this book.
Synopsis
Avi Steinberg is stumped. After defecting from yeshiva to Harvard, he has only a senior thesis essay on Bugs Bunny to show for his effort. While his friends and classmates advance in the world, he remains stuck at a crossroads, unable to meet the lofty expectations of his Orthodox Jewish upbringing. And his romantic existence as a freelance obituary writer just isn't cutting it. Seeking direction—and dental insurance—Steinberg takes a job as a librarian in a tough Boston prison.

The prison library counter, his new post, attracts con men, minor prophets, ghosts, and an assortment of quirky regulars searching for the perfect book and a connection to the outside world. There's an anxious pimp who solicits Steinberg's help in writing a memoir. A passionate gangster who dreams of hosting a cooking show titled Thug Sizzle. A disgruntled officer who instigates a major feud over a Post-it note. A doomed ex-stripper who asks Steinberg to orchestrate a reunion with her estranged son, himself an inmate. Over time, Steinberg is drawn into the accidental community of outcasts that has formed among his bookshelves — a drama he recounts with heartbreak and humor. But when the struggles of the prison library — between life and death, love and loyalty — become personal, Steinberg is forced to take sides.
Running the Books is a trenchant exploration of prison culture and an entertaining tale of one young man's earnest attempt to find his place in the world while trying not to get fired in the process.
This isn't a gushing feel good memoir, it's a revealing glimpse of the gritty life, most of us know nothing of. I'm a cops' wife, and some of this was eye-opening to me. A good read that I highly recommend.