Welcome, I've moved the Monday Book give Away, over here. Hope you'll enjoy the move. Todays' give away is the hardcover of The Nearest Exit. This sequel reprises the themes of The Tourist, with even more success…Like le Carré's George Smiley, Milo Weaver is a richly imagined creation with a scarred psyche and a complex back story that elevates him above the status of run-of-the-mill world-weary spook.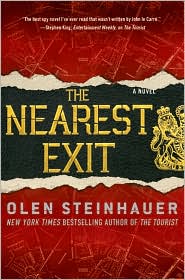 Library Journal
This sequel to Steinhauer's memorable The Tourist presents an espionage tale as puzzling as any a spy fiction might require. An abundance of characters peppers emotionally troubled ex-superspy Milo Weaver's return to the field to perform a horrifying job he does not want to do for people he distrusts. The reader is suspended over a chasm of ambiguity as to who in which agency has been assigned by whom to do what to whom. As with all excellent spy stories, this one reveals betrayal by professional liars at every level. Tourists, hypersecret operatives of the CIA, appear to be the target of a mole, or perhaps there is no mole, only a loose lip somewhere high among American politicos. Working in Europe and the United States, anguished Milo unravels a skein of knotted plots, amoral officials, and subplots disguising an ingenious, unexpected, and terrible revenge.VERDICT—this is an extraordinarily complex and compelling thriller.
I'm going to be changing up the rules, here.
You can win more than once.
You must comment on this post.
You must have a blog to be eligible to win.
If you have a blog, but are a no-comment blogger, you must leave your email in you comment.
I know that's a lot of rules, but they're pretty simple. I've had non-bloggers trolling looking for freebies, and while I understand why they do that, I've decided to limit my give aways to bloggers.