This year I had my photo taken with Clifford, the Big Red Dog.
Two years ago I hugged Olivia.
The BEA is a lot of fun.
Now for the give away. An ARC of The Devil in Silver by Victor La Valle. It will be published in August.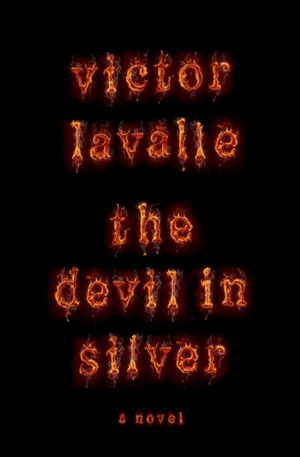 From the back of the ARC:
New Hyde Hospital's psychiatric ward has a new resident. It also has a very, very old one. Pepper is a rambunctious big man, minor-league troublemaker, working-class hero (in his own mind), and, suddenly, the surprised inmate of a budget-strapped mental institution in Queens, New York. He's not mentally ill, but that doesn't seem to matter. He is accused of a crime he can't quite square with his memory. In the darkness of his room on his first night, he's visited by a terrifying creature with the body of an old man and the head of a bison who nearly kills him before being hustled away by the hospital staff. It's no delusion: The other patients confirm that a hungry devil roams the hallways when the sun goes down. Pepper rallies three other inmates in a plot to fight back: Dorry, an octogenarian schizophrenic who's been on the ward for decades and knows all its secrets; Coffee, an African immigrant with severe OCD, who tries desperately to send alarms to the outside world; and Loochie, a bipolar teenage girl who acts as the group's enforcer. Battling the pill-pushing staff, one another, and their own minds, they try to kill the monster that's stalking them. But can the Devil die?
If you're interested in reading this, leave only one comment on this post. The rules are simple
You must be a follower of this blog. If you're a no reply blogger, you must leave your email address in the comment.
In your comment you can tell me what your plans are for the rest of the summer, or tell what you've done so far. Or just tell me what you're reading.
I'll use a Random Number Generator to choose the winner on Wednesday, June 27th.
What are you reading?