My friend Mary, of
Work of the Poet
, post a fascinating book cover almost every week. If you don't know Mary, you should check out her blogs. She's a great lady.
I was shelving books, today at B&N, and this book caught my eye in the Asian Cookbook section.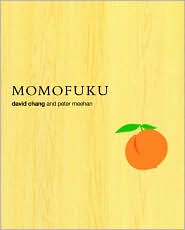 I thought, what the heck! So, when I got home I did some research, and Momofuku means peach in Japanese, and there are at least five restaurants with that name in NYC. They all seem rather expensive, even by NYC standards. One is called Momofuku Milk Bar, maybe I'll check that one out when I'm there in May.
What are you reading?