Happy Valentines Day
It's been a while since I did a give away, but this is a fantastic debut novel. The publisher sent me the
ARC, and I'll pass it on to the winner.
Library Journal
Eleonora Cohen's mother dies after giving birth to her in the Romanian city of Constantţa on the Black Sea in 1877. The child is raised by her doting father, Yakob, a rug merchant, and her cold and calculating aunt. By the time she is four, it is evident that Eleonora is a child prodigy; she reads and speaks several languages. When her father leaves for a trip to Stamboul (as Istanbul was then known in the Ottoman Empire), Eleonora, age eight, stows away on the ship. In Stamboul, Eleonora and her father visit her father's business partner, Turkish aristocrat Moncef Bey, and then tragedy strikes again. Meanwhile, Eleonora's extraordinary genius has come to the attention of the sultan himself, who invites her to his palace and seeks her advice. Soon rumors of the child's powers are flying around the city, and Eleonora has to make a very adult decision. VERDICT This first novel by a promising young writer is both vivid historical fiction and a haunting fable. It will appeal to a wide range of readers. [See Prepub Alert, LJ 9/15/10.]—Leslie Patterson, Rehoboth, MA
This book has already been published.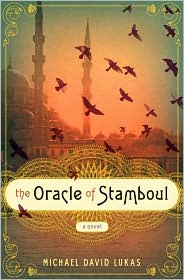 Here are the simple rules:
You can win more than once.
You must comment on this post. I'd love if you became a follower, but it's not required.
You must have a blog to be eligible to win.
If you have a blog, but are a no-comment blogger, you must leave your email in you comment.
What are you reading?