It's been a couple of weeks since I've given away a book. Today, I'm giving away two.
The first is Lord of Misrule by Jaimy Gordon. The give away is for the hardcover. It was the Winner of the 2010 National Book Award for Fiction. Lord of Misrule is a darkly realistic novel about a young woman living through a year of horse racing while everyone's best laid plans go brutally wrong. With her first novel since her acclaimed Bogeywoman, Jaimy Gordon bears comparison to other great writers of the American demimonde, such as Nathanael West, Damon Runyon, and Eudora Welty.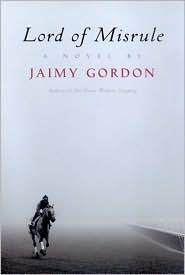 The New York Times - Janet Maslin
Perhaps Lord of Misrule would not be so startling if Ms. Gordon's other books had been more widely read. But this novel is so assured, exotic and uncategorizable, with such an unlikely provenance, that it arrives as an incontrovertible winner, a bona fide bolt from the blue…Ms. Gordon is magically adept at fusing the banal and the mythic…She's also keenly attuned to all the aspects of carnality and power that infuse this story, from the way horses feel in human hands to the way Tommy uses his physical magnetism both to dominate Maggie and to use her as a tease for others.
The second is Caribou Island by David Van, the give away is an ARC. The book will be published January 18th.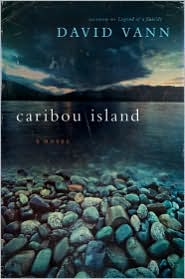 Synopsis
The prize-winning author of Legend of a Suicide delivers his highly anticipated debut novel.
On a small island in a glacier-fed lake on Alaska's Kenai Peninsula, a marriage is unraveling. Gary, driven by thirty years of diverted plans, and Irene, haunted by a tragedy in her past, are trying to rebuild their life together. Following the outline of Gary's old dream, they're hauling logs to Caribou Island in good weather and in terrible storms, in sickness and in health, to build the kind of cabin that drew them to Alaska in the first place.
But this island is not right for Irene. They are building without plans or advice, and when winter comes early, the overwhelming isolation of the prehistoric wilderness threatens their bond to the core. Caught in the emotional maelstrom is their adult daughter, Rhoda, who is wrestling with the hopes and disap-pointments of her own life. Devoted to her parents, she watches helplessly as they drift further apart.
Brilliantly drawn and fiercely honest, Caribou Island captures the drama and pathos of a husband and wife whose bitter love, failed dreams, and tragic past push them to the edge of destruction. A portrait of desolation, violence, and the darkness of the soul, it is an explosive and unforgettable novel from a writer of limitless possibility.
Here are the simple rules:
You can win more than once.
You must comment on this post. Tell me if you're interested in either, or both books.
I'd love if you became a follower, but it's not required.
You must have a blog to be eligible to win.
If you have a blog, but are a no-comment blogger, you must leave your email in you comment.
Read more books,