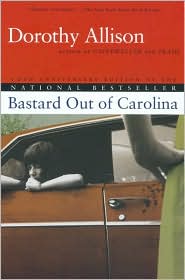 I spent the weekend finishing some projects and clearing my bookshelves. They're not completely clear, but I made plenty of shelf space to store fabric, all my other storage was overflowing. I took 7 boxes of books to Murrieta Friends of the Library, but I saved this great book for todays' give away. I've held onto my copy for 10 years, I think I may re-read it, before next Monday.
I hope all your shopping is finished and you have a great week, and a Merry Christmas.
Publishers Weekly
Allison's remarkable country voice emerges in a first novel spiked with pungent characters ranging from the slatternly to the grotesque, and saturated with sense of place -- Greenville, S.C. Ruth Anne Boatwright, 13, got the nickname "Bone" at birth, when she was tiny as a knucklebone, and the tag acquires painful derivatives, like "Bonehead.'' While her mother, Annie, a waitress, tries vainly to get the word "illegitimate'' scrubbed from Bone's birth certificate, her tobacco-spitting granny reminds her she's a bastard. The identity of her real father, whom granny drove away, is kept from her. Surrounded by loving aunts and uncles, Bone still endures ridicule (she's homely, she has no voice for gospel singing) and -- from vicious Daddy Glen, her mother's new husband -- beatings and sexual abuse. Bone takes refuge in petty crime, like breaking into Woolworth's, and finds her truest friend in unmarried Aunt Raylene, who once had a great love for another woman. Annie gently defends Daddy Glen, blaming her daughter, until the tale's inevitably brutal climax. Mental and physical cruelty to women forms a main theme, illuminated by the subplot of pathetic albino Shannon Pearls, her story rife with Southern gothic overtones. Allison, author of the well-received short story collection "Trash," doesn't condescend to her "white trash'' characters; she portrays them with understanding and love.
Here are the simple rules:
You can win more than once.
You must comment on this post. I'd love if you became a follower, but it's not required.
You must have a blog to be eligible to win.
If you have a blog, but are a no-comment blogger, you must leave your email in you comment.
The winner of last weeks' give away is
Jan
.
Read more books,