Up front, you should know, I haven't read these two offerings. I got them from the publishers, and haven't had time. Instead of letting them sit and gather dust, I'm going to send them on to good homes.
Publishers Weekly
Despite taking place in South Africa during the 1960s, the latest from Heyns (The Reluctant Passenger) treats the looming presence of apartheid cursorily, choosing instead to focus on the subtler conflict between the elite English and the much-despised Afrikaners. At Wesley College, an English-speaking boarding school, Simon, the teenage son of an English magistrate father and an Afrikaner mother, keeps quiet about his mixed ethnicity, but is forced to confront his past when a group of Afrikaner students from a nearby technical school arrive at Wesley for a tennis match and Simon recognizes Fanie van den Bergh, a primary school classmate. The book then alternates between the fated day of the tennis match and memories from Simon's childhood. All of these recollections chronicle Simon's attempt to establish his own sense of morality in the face of the racist conservatism of the adult world, but while the book successfully unveils the moral hypocrisy of the era, Simon's recollections lack the coherence needed to transform the mundane adolescent experience—sexual discoveries, troublesome friends, forging an identity—into a compelling story. (Aug '09.)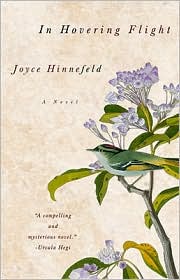 Publishers Weekly
In this provocative and page-turning debut novel, Hinnefeld (Tell Me Everything and Other Stories) recounts the life of bird-lover, environmental activist and artist Addie Sturmer Kavanagh. Opening with Addie's death from cancer, and her troublesome dying wish-"clear orders for a brazenly illegal burial"-Hinnefeld's narrative migrates to Addie's days as a college art student, when she fell in love with birds and with the professor teaching her their biology, Tom Kavanagh. The early years of Addie and Tom's romance follows their birding and collaboration on an environmental, antiwar birding book destined to become a classic. Soon enough, though, the birth of their daughter, Scarlet, along with Addie's growing political and environmental awareness, relegate romance to the back seat. As Addie's creative vision shifts from avian homage to political tirade, the effects of her outspoken eco-outrage on her daughter, husband and two closest girlfriends are predictable but authentic, and at times moving. Hinnefeld's drama soars, especially in its depiction of Addie's complicated relationship with Scarlet, who's also trying to find her "wings." (Sept. '08)
If you're interested, let me know. Here are the simple rules:
You can win more than once.
You must comment on this post. I'd love if you became a follower, but it's not required.
You must have a blog to be eligible to win.
If you have a blog, but are a no-comment blogger, you must leave your email in you comment.
The winner of You Don't Look Like Anyone I Know is
Marianne
. I hope you'll love it.
Read more books,