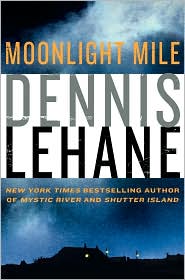 Right off I have to admit, Lehane tops my list of favorite authors. I fell for him the first time I read Mystic River. You'll notice I said first time, I rarely re-visit a book. Lehanes' books are an exceiption. Now, I'll stop gushing and get on with the review. Moonlight Mile is the book I never thought I'd read. Lehane was always firm that he'd never write a 6th Patrick Kenzie and Angela Gennaro mystery. He always said they'd, Patrick and Angie, been beat up enough, and he couldn't do it anymore. I guess these characters weren't ready to call it a day, and there was one more tale to tell. Each character is older, wiser and more settled; but not boring, every one is still dangerous and packing heat.
The New York Times - Janet Maslin
What…keep[s] Moonlight Mile from heading down an overly well-trodden path…[is] the conviction with which Mr. Lehane breathes life into these characters. Unlike the usual sequel writer who simply puts old creations through new paces, Mr. Lehane registers a deep affection for the Kenzie-Gennaro team and a passionate involvement in their problems. And he treats each book in this series as an occasion for wondering what kind of world can produce the depravity that each new plotline describes.
Read on,