Today, I offering two very different books. One is fantastic fiction; the other is an unusual memoir.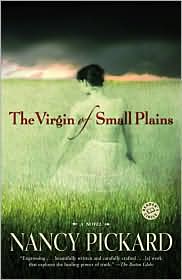 First, The Virgin of Small Plains by Nancy Pickard. This is a great author, who I believe should be on everyone's must read list.
Synopsis:
Small Plains, Kansas, January 23, 1987: In the midst of a deadly blizzard, eighteen-year-old Rex Shellenberger scours his father's pasture, looking for helpless newborn calves. Then he makes a shocking discovery: the naked, frozen body of a teenage girl, her skin as white as the snow around her. Even dead, she is the most beautiful girl he's ever seen. It is a moment that will forever change his life and the lives of everyone around him. The mysterious dead girl–the "Virgin of Small Plains"–inspires local reverence. In the two decades following her death, strange miracles visit those who faithfully tend to her grave; some even believe that her spirit can cure deadly illnesses. Slowly, word of the legend spreads.
But what really happened in that snow-covered field? Why did young Mitch Newquist disappear the day after the Virgin's body was found, leaving behind his distraught girlfriend, Abby Reynolds? Why do the town's three most powerful men–Dr. Quentin Reynolds, former sheriff Nathan Shellenberger, and Judge, Tom Newquist–all seem to be hiding the details of that night?
Seventeen years later, when Mitch suddenly returns to Small Plains, simmering tensions come to a head, ghosts that had long slumbered whisper anew, and the secrets that some wish would stay buried rise again from the grave of the Virgin. Abby–never having resolved her feelings for Mitch–is now determined to uncover exactly what happened so many years ago to tear their lives apart.
Three families and three friends, their worlds inexorably altered in the course of one night, must confront the ever-unfolding consequences in award-winning author Nancy Pickard's remarkable novel of suspense. Wonderfully written and utterly absorbing, The Virgin of Small Plains is about the loss of faith, trust, and innocence . . . and the possibility of redemption.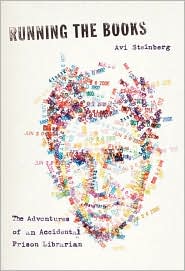 Next is the memoir, Running The Books by Avi Steinberg. You notice, his portrait is done in different color date stamps, he's running a prison library.
Synopsis:
Avi Steinberg is stumped. After defecting from yeshiva to Harvard, he has only a senior thesis essay on Bugs Bunny to show for his effort. While his friends and classmates advance in the world, he remains stuck at a crossroads, unable to meet the lofty expectations of his Orthodox Jewish upbringing. And his romantic existence as a freelance obituary writer just isn't cutting it. Seeking direction—and dental insurance—Steinberg takes a job as a librarian in a tough Boston prison.
The prison library counter, his new post, attracts con men, minor prophets, ghosts, and an assortment of quirky regulars searching for the perfect book and a connection to the outside world. There's an anxious pimp who solicits Steinberg's help in writing a memoir. A passionate gangster who dreams of hosting a cooking show titled Thug Sizzle. A disgruntled officer who instigates a major feud over a Post-it note. A doomed ex-stripper who asks Steinberg to orchestrate a reunion with her estranged son, himself an inmate. Over time, Steinberg is drawn into the accidental community of outcasts that has formed among his bookshelves — a drama he recounts with heartbreak and humor. But when the struggles of the prison library — between life and death, love and loyalty — become personal, Steinberg is forced to take sides.
Running the Books is a trenchant exploration of prison culture and an entertaining tale of one young man's earnest attempt to find his place in the world while trying not to get fired in the process.
If you're interested in either or both of these books, let me know. Here are the simple rules:
You can win more than once.

You must comment on this post. I'd love if you became a follower, but it's not required.

You must have a blog to be eligible to win.

If you have a blog, but are a no-comment blogger, you must leave your email in you comment.
The winner of last weeks book, Crooked Letter, Crooked Letter is
Jan
.
Happy reading,