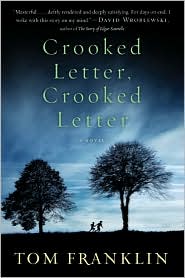 I'm running late today, just been busy with life in general. Today I'm offering one of the best new titles if this fall, Crooked Letter, Crooked Letter by Tom Franklin. I love everything about this book, including the title. When I mentioned this novel to people, invariably they look at me with a question mark in their expression. I explain, you know like M-I-Crooked Letter-Crooked Letter-I..... then they get it.
Synopsis
A powerful and resonant novel from Tom Franklin—critically acclaimed author of Smonk and Hell at the Breech—Crooked Letter, Crooked Letter tells the riveting story of two boyhood friends, torn apart by circumstance, who are brought together again by a terrible crime in a small Mississippi town. An extraordinary novel that seamlessly blends elements of crime and Southern literary fiction,Crooked Letter, Crooked Letter is a must for readers of Larry Brown, Pete Dexter, Ron Rash, and Dennis Lehane.
The copy I'm giving away is an ARC, received at the bookstore, so it has extra markings on it.
Here are the give away rules:
You can win more than once.
You must comment on this post. I'd love if you became a follower, but it's not required.
You must have a blog to be eligible to win.
If you have a blog, but are a no-comment blogger, you must leave your email in you comment.
Shirley of
The Gardening Life
won The Man In The Woods.