Don Winslow is one of my favorite authors; I think I've read everything he's written. With Satori he's taken a different path, but if you're a great writer, you can do that. Did you read Shibumi, by Trevanian, it's a classic thriller, written in 1983? The main character is Nicholai Hel: genius, mystic and the perfect, formidable assassin. In Satori, Winslow gives us the back story and reveals how Hel became the world's most dangerous man.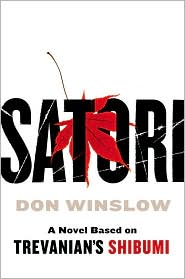 Synopsis
Trevanian's Shibumi was a landmark bestseller, and one of the classic thrillers of the 20th century-now Don Winslow returns with the prequel, SATORI.
It is the fall of 1951 and the Korean War is raging. Twenty-six year-old Nicholai Hel has spent the last three years in solitary confinement at the hands of the Americans. Hel is a master of hoda korosu or "naked kill," fluent in over six languages, and has honed extraordinary "proximity sense"-an extra-awareness of the presence of danger. He has the skills to be the world's most formidable assassin and now the CIA needs him. The Americans offer Hel freedom in exchange for one small service: go to Beijing and kill the Soviet Union's Commissioner to China. It's almost certainly a suicide mission, but Hel accepts. Now he must survive chaos, violence, suspicion, and betrayal while trying to achieve his ultimate goal of satori-the possibility of true understanding and harmony with the world.
This novel totally rocks, from beginning to end. I'm offering the ARC, the hardcover will be published in March, 2011.
Here are the rules of the give away:
You can win more than once.
You must comment on this post. I'd love if you became a follower, but it's not required.
You must have a blog to be eligible to win.
If you have a blog, but are a no-comment blogger, you must leave your email in you comment.
The winner of The Boy Who Harnessed The Wind, is Ellie. The winner of The Nearest Exit is Allie.