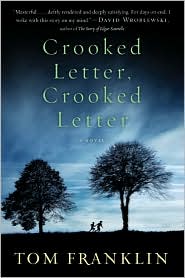 This is a terrific novel. Extremely well written and gripping tale involving the meaning of family and friendship. Plus, Crooked Letter, Crooked Letter involves one of my favorite things, a great mystery.
Synopsis
A powerful and resonant novel from Tom Franklin—critically acclaimed author of Smonk and Hell at the Breech—Crooked Letter, Crooked Letter tells the riveting story of two boyhood friends, torn apart by circumstance, who are brought together again by a terrible crime in a small Mississippi town. An extraordinary novel that seamlessly blends elements of crime and Southern literary fiction, Crooked Letter, Crooked Letter is a must for readers of Larry Brown, Pete Dexter, Ron Rash, and Dennis Lehane.
Read it, you won't be sorry.